Rev. Kevin Vogts and Terese (nee Schmidt) Vogts were united in marriage in 1990. They have been blessed with three children, Jacob, Sarah, and Anna. Jacob is an engineering student at Iowa State University, Sarah is studying bassoon performance at the University of Kansas, and Anna is a student at Lutheran High School of Kansas City. Terese is a native of Winner, South Dakota, graduate of the University of South Dakota, and a Registered Medical Technologist at LabCorp in Overland Park, Kansas. Rev. Vogts, Terese, and Anna are at home in the parsonage adjacent to Trinity.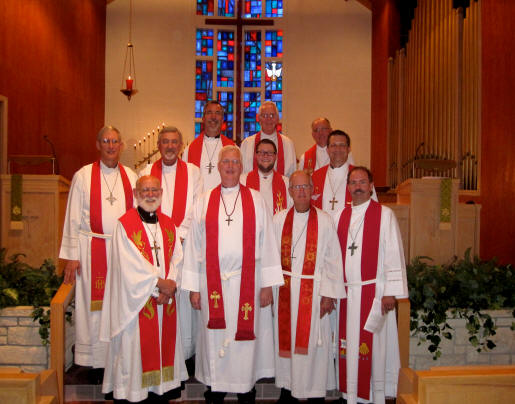 A large group of pastors from the area joined in the celebration for the installation of
Rev. Kevin Vogts as the pastor of Trinity at a special service on September 15, 2013.
Rev. Vogts has a unique connection to Trinity. His great-great-grandparents, Johann and Katherina Windler, were among the first settlers at "Block Corners" in 1865, and founding members of the congregation in 1868. In 1870 their daughter Anna Windler, his great-grandmother, was among the congregation's first Confirmands and first graduates of Trinity Lutheran School. That same year her mother passed away, so that Rev. Vogts' great-great-grandmother's prominent gravestone is in the first row of the church's cemetery. Nearly 150 years after Katherina Windler's passing, her great-great-grandson can look out the window sitting at his desk in his study at the parsonage and see her grave a few hundred feet away!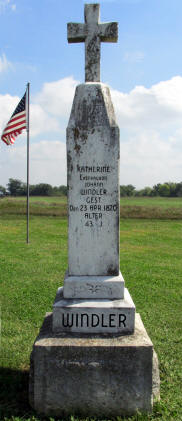 Rev. Vogts has served as Pastor of Trinity since September, 2013. From 2003-2013 he was Pastor of Holy Cross Lutheran Church, Dakota Dunes, South Dakota. From 1998-2003 he was Director of Communications and Church Relations at Concordia University Wisconsin, Mequon, Wisconsin, the largest Lutheran university in North America. In that role he oversaw the university's marketing and public relations efforts, founded and edited the university magazine Concordian, served as a liaison to pastors and congregations, represented the university at conferences, conventions and by preaching in congregations throughout the nation, and led workshops in evangelism and church growth. He was also involved in the recruitment of future pastors, teachers and other church workers. In addition to serving at Concordia, he assisted with pastoral duties at Trinity Lutheran Church, Mequon.
Prior to his service at Concordia University Wisconsin, Rev. Vogts helped establish two mission congregations, Redeemer Lutheran Church, Lawrence, Kansas (1992-98) and New Hope Lutheran Church, Ossian, Indiana (1986-88). He also served as Pastor of Bethlehem Lutheran Church, Sylvan Grove, Kansas (1988-1992). While a seminary student he served his vicarage, a year of pastoral internship, at Bethlehem Lutheran Church, Ridgewood, New Jersey (1984-85).
A native of Canton, Kansas, Rev. Vogts is a graduate of St. John's College, Winfield, Kansas (B.A. 1982) and Concordia Seminary, St. Louis, Missouri (M.Div. 1986), and has done additional graduate study at Concordia Seminary, St. Louis and Concordia Theological Seminary, Ft. Wayne, Indiana. He has participated in archaeological excavations in Jordan and traveled extensively throughout the Middle East. A professional photographer, he has a comprehensive library of photographs illustrating the Biblical world. Rev. Vogts recently took an extensive mission trip to Kenya, Africa, with Rev. Dr. Matthew Harrison, President of The Lutheran Church–Missouri Synod, where he visited dozens of Lutheran congregations and had the joy of preaching on a mountaintop to an outdoor assembly of Kenyan Lutherans.
Articles and photographs by Rev. Vogts have been featured in several publications, including The Lutheran Witness, Logia, Higher Things, and The Federalist, and he has been a guest several times on the Lutheran radio program Issues, Etc.

Issues, Etc. interview with Pastor Vogts about Father's Day
(Click to Play - Right-Click to Save as MP3)

Issues, Etc. interview with Pastor Vogts about the Bible and Archaeology
(Click to Play - Right-Click to Save as MP3)
From 2004-2010 Rev. Vogts served as Vice-Chairman of the LCMS Board for Communications Services, and was previously on the Communications Committee of the LCMS South Wisconsin District. He was Chairman of the Evangelism Committee of the LCMS South Dakota District and taught courses in evangelism for the district's Lay Leadership Institute. He was a delegate to the 1998, 2001, 2010, 2013, and 2016 LCMS national conventions, serving as a member of Floor Committees in 1998, 2001, and 2013, and as Floor Committee Secretary in 1998 and 2001. He was also Secretary and Chairman of Floor Committees for the 2009 and 2012 LCMS South Dakota District conventions.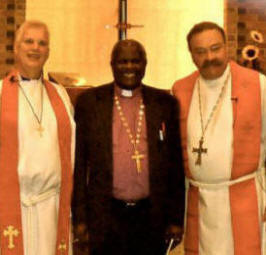 Rev. Vogts celebrated his 25th Ordination Anniversary on August 14, 2011. He was honored to have his friends Rev. Dr. Matthew Harrison, President of The Lutheran Church–Missouri Synod, and Rev. Dr. Walter Obare, Archbishop of the Evangelical Lutheran Church in Kenya, present for the occasion, with President Harrison serving as guest preacher.
(Due to the 2011 flood which forced the evacuation of the entire Dakota Dunes community and closure of Holy Cross Lutheran Church for several months the 25th Ordination Anniversary service was held at Concordia Lutheran Church, Sioux City, Iowa as shown in the video above.)